NEW……SPIRITUAL VOICE WORK SESSIONS………. individual and also group sessions.
1-1 individual sessions and also small group sessions will raise the frequency/vibration of your speaking and singing voice to the highest level available at this time. Channelling Powerful healing through your voice Working with the Sacred Sound Masters, Archangels and Angels of light.
Please contact Rosemary for more detailed information and availability of appointments.
Each voice session is a 2 hour session for 1-1……and 3+ hours for small group session.
These sessions will also empower those wanting to open their voice for speaking only.
Rosemary is still living in South Cheshire until July 2017 then she will be moving back to North Yorkshire in August 2017
Next small group session is Saturday 1st April in South Cheshire
Individual session appointments available on request
Workshop venue North Yorkshire unless otherwise stated.
2017
JULY
July 1st and 2nd …..Hay House, Angel World Summit Event, London
SEPTEMBER
September 6th and 7th ……Gaiadon Core Heart Activation.
September 30th and 1st October…..connecting to the Sounds of Lemurian healing. This is a repeat of the workshop in May which is full…….. this is extra date.
OCTOBER
October 13,14,15th Angelic Reiki level 1/2
October 28th…..1 day workshop…opening up and attuning your voice to a higher vibration with the Angels and Masters of Light for speaking and toning/singing.
Also 3 x 1-1 sessions for opening the voice as above if preferred.
October 28th and 29th Celestial Sacred Sound Cert level 1
NOVEMBER
November 4th and 26th MBS Birmingham with Diana Cooper
November 25th and 26th Gaiadon Heart level 2.
December 9th and 10th Gaiadon Heart level Divine Alchemy
December 15th 16th and 17th Celestial Sacred Sound Cert, YORK…for info please Email Philippa James on yorkschoolinfo@btinternet.com
2018
FEBRUARY
February 3rd and 4th CROSS….Crescendo Reiki Of Sacred Sound…level 1
February 9th to 12th Celestial sacred Sound Cert in Nuremburg, Germany Contact details Cornelia Mohr…email praxis.c.mohr@t-online.de
February 14th to 18th  CROSS Crescendo Reiki of Sacred Sound in Karlsruhe, Germany
February 24/25th  Celestial Sacred Sound Certificate Level 1
MARCH
March 1st to 8th ……RETREAT to Israel, The Holy Land….. see details
March 16,17,18th …Angelic Reiki level 1 and 2…Richmond, North Yorks
March 17th and 18th….Connecting to the sounds of Lemurian Healing
APRIL
April 1st and 2nd…ascension to higher sound and light…..
April 15th …..Angelic Reiki Association Event at Holmfirth, Yorks
April 21st and 22 and 23rd.……. Gaiadon Heart level 1A………
MAY
May 4,5,6th Angelic Reiki level 3 and 4 Teachers…Richmond, North Yorks
May 12th and 13th …..CROSS Crescendo Reiki of Sacred Sound Level 1
May 26th and 27th …..MBS Olympia London
JUNE
June 1st to 4th …..Angel Congress, Stuttgard, Germany
JULY
July 14th Angel World Summit, Hay House London
July 20,21,22nd Angelic Reiki level 1 and 2….North Yorks
July 28 and 29th Celestial Sacred Sound Certificate level 1….North Yorks
SEPTEMBER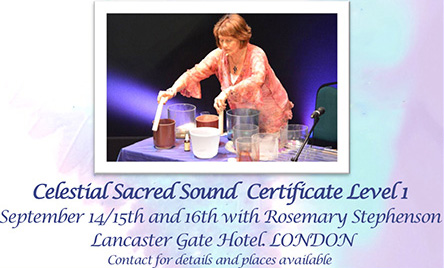 September 14th 15th and 16th .. Celestial Sacred Sound Certificate Level 1
September 22 and 23rd MBS Harrogate, Workshop
September 28,29,30th RETREAT with Diana Cooper and Rosemary Stephenson (more details to follow)